16.01.2018 15:02 von
Nico Jütte
Tags:
Whirlpool
Indoor
New
bath
Design
exclusiv
whirl bath
Whirlpool Milos & Mykonos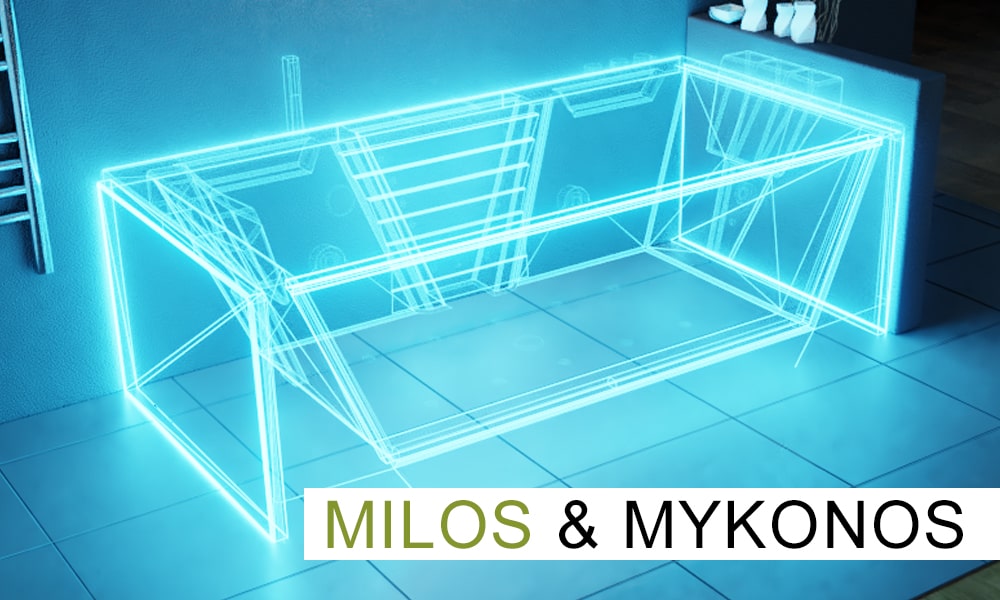 Our first own creation under the indoor whirlpools, The KOS and the successor model KOS 2 have been sold hundreds of times in the last two years and have become an eye-catcher in many bathrooms.
The whirlpool is particularly striking for its straightforward, almost minimalist look: A strict straight lines that are resolved only by the curves in the area of ​​the staircase-like waterfall in the middle. However, the most noticeable feature is the creek on the edge of the tub, which creates fascinating color schemes with its lighting under running water and the prominent front glass, through which you can see the entire interior of the tub and your bathroom immersed in atmospheric light.

The KOS offers a unique design without having to sacrifice features and features. The combination of design and functionality has made KOS one of our top sellers and inspired many customers throughout Europe.
In the spring of 2017, fundamental improvements in functionality and hygiene were made: the successor model KOS 2 now has a new type of hose system flushing function, which now lets the water in directly via the whirlpool nozzles. Thus, the nozzles and the pipe system are flushed through each bath process, which made the spa even more durable and resistant to germ formation.

We proudly present the two new sister models of our favorite hot tub. Two models that reflect in their respective design certain aspects of the KOS / KOS 2 and continue to carry and yet have enough unique features to justify an independent model.

Whirlpool Badewanne MYKONOS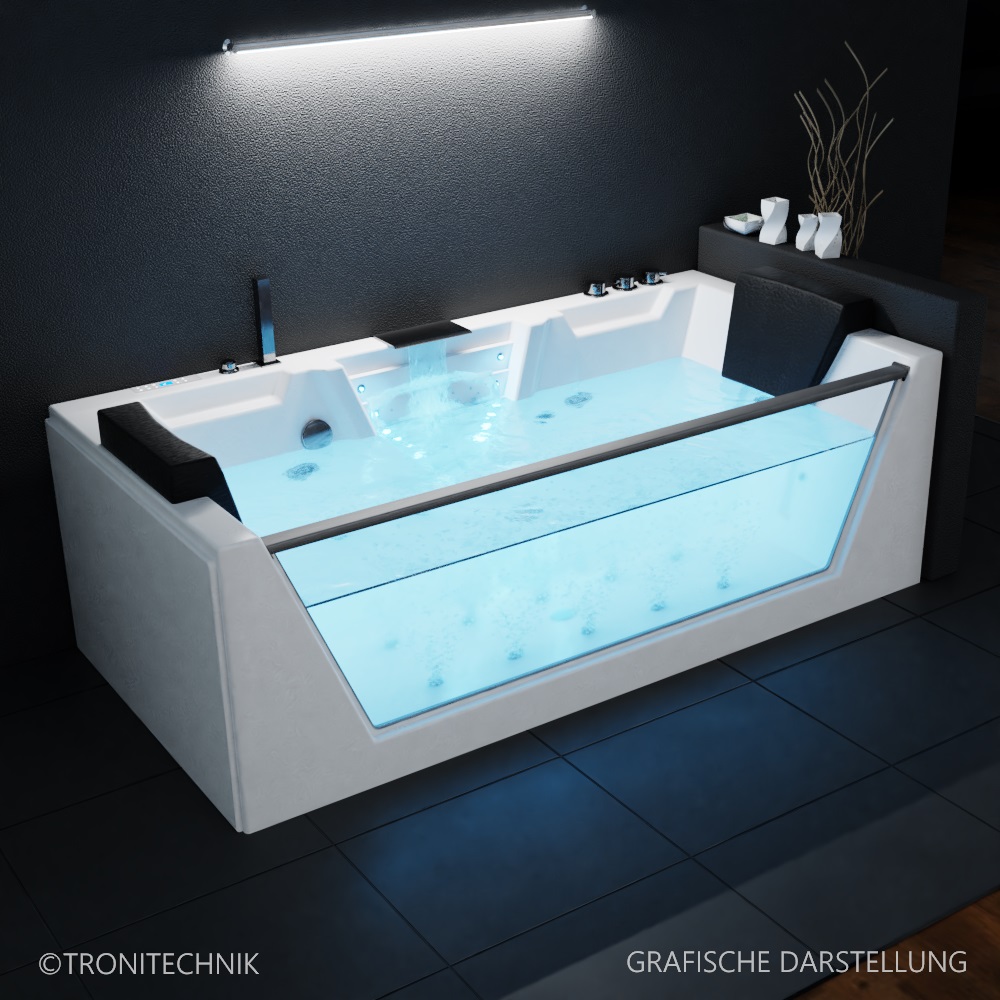 Above all, MYKONOS embraces the straightforward style of its predecessor. Instead of the rounded waterfall passage, the trough center is now dominated by a pronounced V-shape, which reflects the shape of the windscreen and the tub interior and completes the overall picture. Since the watercourse of the predecessor is dispensed with, this whirlpool offers approx. 10 cm of additional space in the interior and furthermore has recessed armrests for optimum reclining comfort. The MYKONOS also brings back the centrally placed waterfall as an additional water inlet back which fell away in favor of the nozzle flushing function of the predecessor.

Whirlpool Badewanne MILOS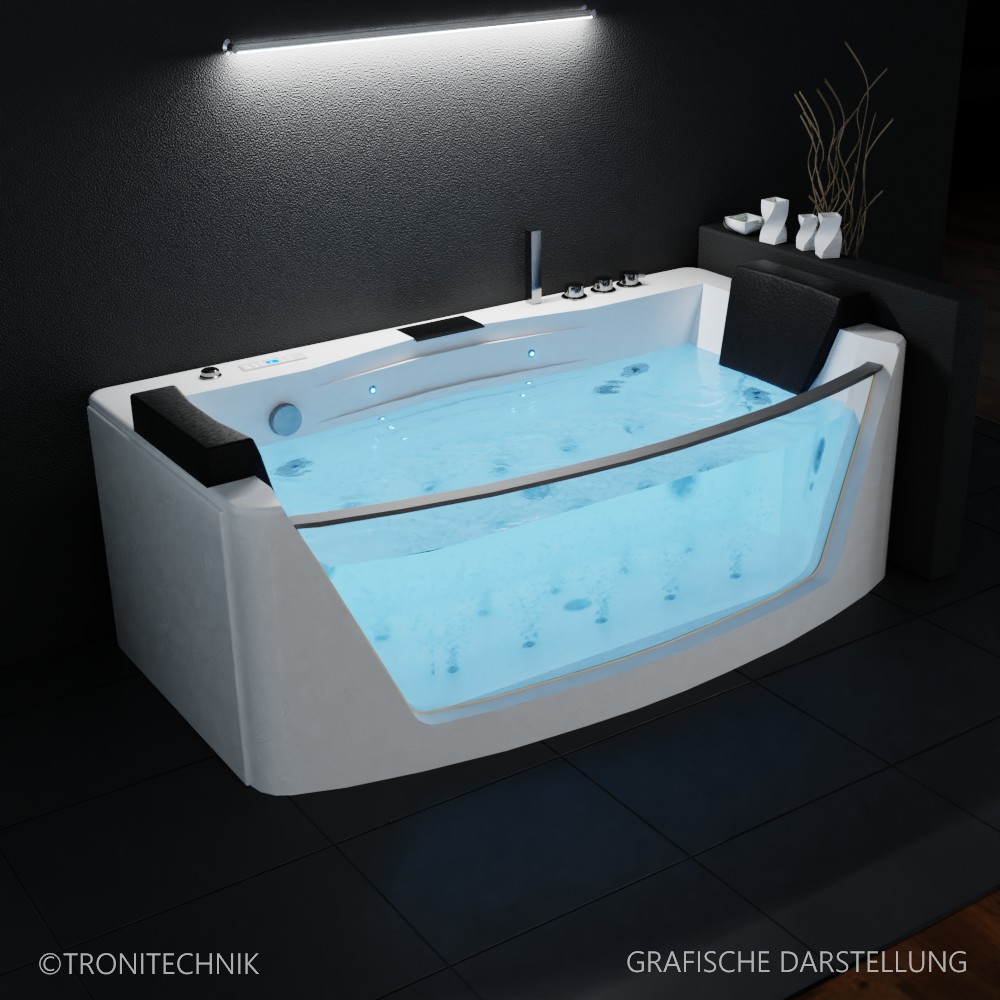 At MILOS, the first thing that stands out is the special curved front and the elaborately curved front glass. This whirlpool turns from the straight lines of the sister models to a more playful aesthetic. Due to the vaults on both the windscreen and the waterfall passage, the MILOS offers the largest possible interior of the three models. Just like the MYKONOS, the MILOS again has the popular waterfall as a water inlet, which offers a spectacular sight with the help of LEDs placed on the wall.

With these two whirlpools, we are expanding our range with two unique designs and looking forward to the future.